Explore our multi-functional banquet-conference rooms. Plan you conference properly.
AB Room
LEVEL 0
AB Room
455m2
AB Room may be divided into A Room and B Room
A Room
232 m2
theatre setting: 150 people
classroom setting: 90 people
banquet setting: 80 people
B Room
223 m2
theatre setting: 90 people
classroom setting: 60 people
banquet setting: 80 people
B Room can be divided into two smaller rooms B1 and B2
B1 Room
42 m
theatre setting: 40 people
classroom setting: 20 people
banquet setting: 25 people
B2 Room
67 m2
theatre setting: 60 people
classroom setting: 30 people
banquet setting: 30 people
Sala A
POZIOM 0
Sala A (410 m2) to część sali AB z dostępem do dużego okna wydawczego z kuchni. Jest idealna zarówno na bankiety jak i konferencje. Posiada własne oświetlenie oraz nagłośnienie. Sala jest całkowicie przeszklona z dwóch stron. Wyposażona jest także w jeden ekran oraz dwa telewizory multimedialne. Do sali można wstawić scenę oraz parkiet.
ustawienie teatralne: 250os
bankietowe:180os
Sala A jest niepodzielna.
Sala B
POZIOM 0
Sala B (241 m2) to część sali AB, do której prowadzi wejście bezpośrednio z lobby hotelowego. Posiada oddzielne nagłośnienie oraz oświetlenie, którym możemy dowolnie sterować oraz dwa ekrany. Sala jest całkowicie przeszklona od strony jeziora. Idealna na organizację bankietów jak i konferencji. Możliwe jest także wstawienie do sali sceny oraz parkietu.
ustawienie teatralne: 150os
bankietowe: 100os
Salę B możemy podzielić na dwie mniejsze:
Sala B1 (56 m2)
ustawienie teatralne: 60os
bankietowe: 30os
Sala B2 (58 m2)
ustawienie teatralne: 70os
bankietowe: 40os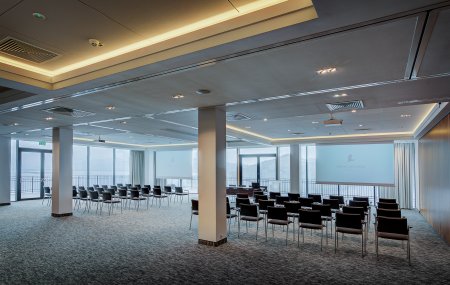 C Room
LEVEL 0
C Room
123m2
theatre setting: 160 people
classroom setting: 80 people
banquet setting: 80 people
horseshoe setting: 40 people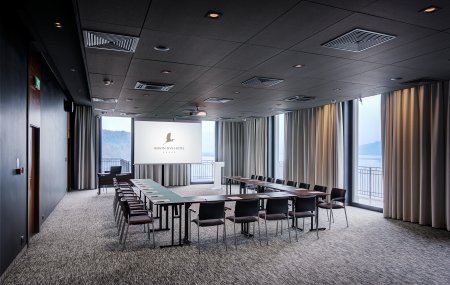 Schemat
SALE KONFERENCYJNO-BANKIETOWE