Heron is situated among Lesser Poland's ski slopes. Thanks to the convenient location of the Hotel you do not have to visit one ski slope during your whole stay, beacause in a close distance there are more slopes where you can go crazy in the snow.
FOR SKIERS
HERON AMONG LESSER POLAND'S SKI SLOPES
When frost covers water, and snow falls on ground, valleys and mountain slopes awaken in Lesser Poland. Thousands of snow amateurs visit places famous for their ski slopes. Karpaty - their part in Lesser Poland, aside from Tatras, are medium height mountains good for intermediate skiers and snowboarders. They are also perfect for families with children - good tourist infrastructure and special tracks for children guarantee safe skiing. Advanced skiers will also feel good here, they usually visit Krynica-Zdrój.
Every year, both big and small, the ski slopes are rated in The Best Ski Station Competition. When going skiing it is reasonable to know the results of the Competition because the best stations guarantee safe skiing. The Polish Skiing and Tourist Stations Association (PSNiT) are also responsible for good skiing conditions.
CSZ PTASZKOWA
NARCIARSKIE TRASY BIEGOWE
Centrum Sportów Zimowych w Ptaszkowej to nowoczesny obiekt z z trasami biegowymi znajdującymi się wokół Ośrodka. Trasy te mają długość 2500 m i posiadają homologację FIS co pozwala na organizowanie różnych zawodów sportowych.
Trasy biegowe zimą są ratrakowane, naśnieżane i oświetlone. Na terenie Ośrodka istnieje także możliwość wypożyczenia nart oraz nauki jazdy na nartach biegowych, która jest prowadzona przez wykwalifikowanego instruktora.
26km
(Heron Live Hotel - Sienna - Jelna - Janczowa - Korzenna - Krużlowa - Stara Wieś - Ptaszkowa)

32min
Ptaszkowa 883, 33-333 Ptaszkowa

18 415 70 35

csz.gminagrybow.pl

8:00 - 20:00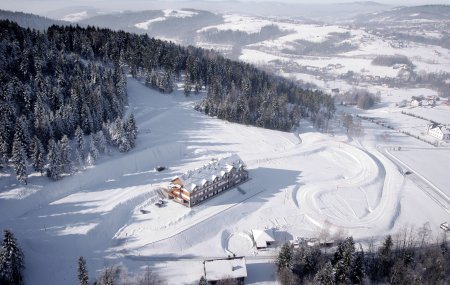 CIENIAWA-SKI
CIENIAWA
Cieniawa-Ski is a family station with 3 ski lifts and tracks with various difficulty levels: 500m ski lift with a significant height differences, the small one 350m, and the turtle ski lift 50m for little skiers.
22km
(Heron Live Hotel - Sienna - Jelna - Librantowa - Paszyn - Cieniawa)

26min
Cieniawa 267, 33-333 Cieniawa

602 595 527

cieniawa-ski.pl

8:00 - 20:00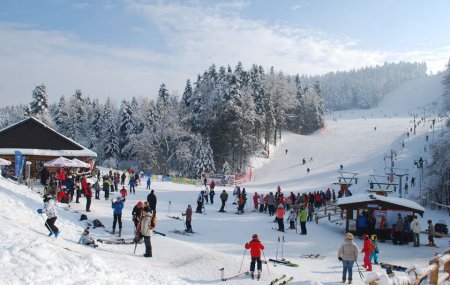 LASKOWA
KAMIONNA
Laskowa in Beskid Wyspowy has thoroughly prepared tracks which are good for beginners as well as for the intermediate skiers. The advantage of this place is a close distance to the Heron Live Hotel and an artificial lighting which allows you to ski after dark.
35km
(Heron Live Hotel - Wielogłowy - Tęgoborze - Strzeszyce - Laskowa - Kamionna)

37min
Laskowa 697, 34-602 Laskowa

+48 18 337 88 10

laskowa-ski.pl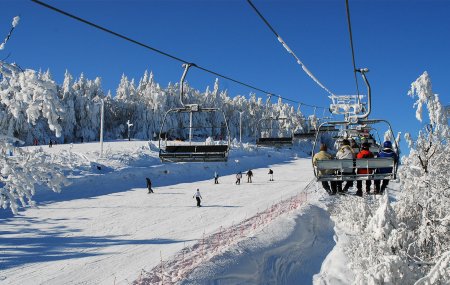 RYTERSKI RAJ
RYTRO
Rytro is located in a picturesque surrounding: Poprad, which flows through two ranges of Beskid Sądecki, grooved a narrow valley. For skiers there is a station on a slope of Jastrzębska Góra.
38km
(Heron Live Hotel - Wielogłowy - Chełmiec - Barcice - Rytro)

45min
Rytro 302, 33-343 Rytro

+48 18 414 35 16

ryterskiraj.pl

9:00 -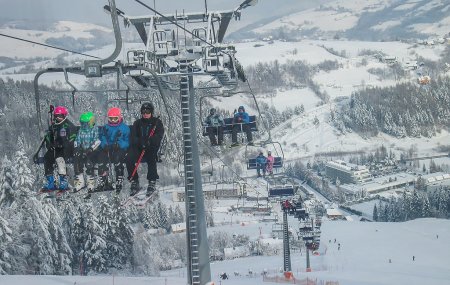 LIMANOWA-SKI
ŁYSA GÓRA
Limanowa will satisfy both beginners and the intermediate, for whom a couple of tracks have been prepared. The northern slope is a place where snow lies the longest, even until April.
44km
(Heron Live Hotel - Wielogłowy - Tęgoborze - Męcina Mordarka - Limanowa)

42min
Mordarka 556, 34-600 Limanowa

+48 18 337 34 34

limanowa-ski.pl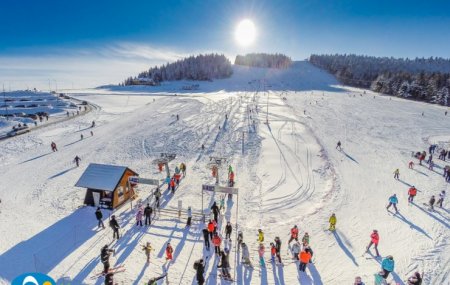 SŁOTWINY I AZOTY
KRYNICA-ZDRÓJ
The centre of Polish spas guarantees perfect conditions for winter sports. Both advanced skiers and beginners will feel good there, as well as people who begin their adventure with snowboards or families with children.
47km
(Heron Live Hotel - Nowy Sącz - Nawojowa - Krzyżówka - Krynica-Zdrój)

53min
ul. Słotwińska 51a, 33-380 Krynica-Zdrój

+48 18 471 53 67

cnazoty.pl
HENRYK-SKI
KRYNICA-ZDRÓJ
Ski Station on the slope of Góra Krzyżowa in the centre of Krynica-Zdrój. It consists of 4-people chairlift, T-bar lift and magic carpet.
48km
(Heron Live Hotel - Nowy Sącz - Nawojowa - Krzyżówka - Krynica-Zdrój)

55min
ul. Kościuszki 4, 33-380 Krynica-Zdrój

+48 18 471 58 22

henryk-ski.pl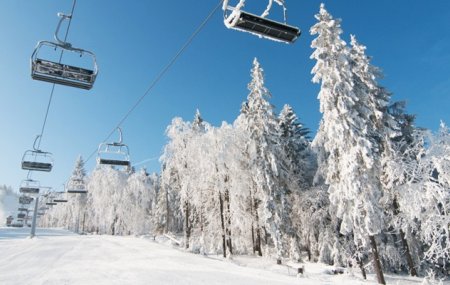 SUCHA DOLINA
PIWNICZNA-ZDRÓJ
In Sucha Dolina there are 9 ski lifts and also 2 more in nearby Kosarzyska. That makes the total of 11 units and the length of over 4 km. During one hour it transports over 5200 skiers and the tracks of 10 km length with various difficulty levels. The longest track is 1.5 km long and its vertical drop of 218 metres makes it even more attractive.
49km
(Heron Live Hotel - Wielogłowy - Chełmiec - Stary Sącz - Rytro - Piwniczna-Zdrój - Sucha Dolina)

59min
Sucha Dolina-Kosarzyska, 33-350 Piwniczna-Zdrój

+48 18 446 51 66

suchadolina.pl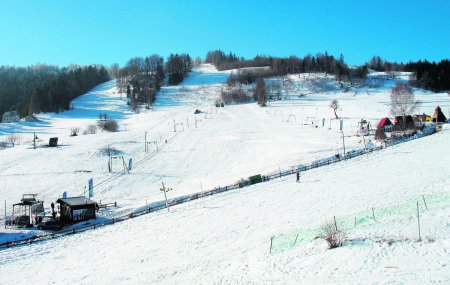 JAWORZYNA KRYNICKA
KRYNICA-ZDRÓJ
The Gondola to Jaworzyna Krynicka is 2211 m long. it starts from Czarny Potok to the top of Jaworzyna Krynicka (1114 m.a.s.l.) and along the mountain's slope, throughout breathtaking views and amazing nature. Aside from 6-people Gondola, 4-people chairlifts there are also 8 T-bar lifts. The tracks are of various difficulty levels.
53km
(Heron Live Hotel - Nowy Sącz - Nawojowa - Krzyżówka - Krynica-Zdrój)

59min
ul. Czarny Potok 75, 33-380 Krynica-Zdrój

+48 18 471 52 71

jaworzynakrynicka.pl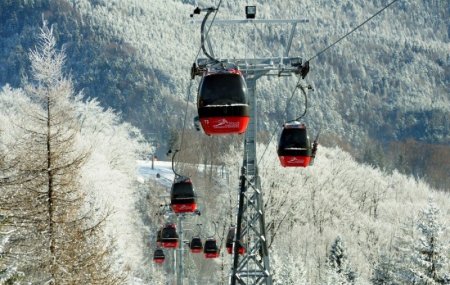 DWIE DOLINY
WIERCHOMLA MAŁA
The station which is located in two valleys on both sides of Pusta Wielka, is one of the biggest in Lesser Poland. It offers 15 km tracks with varous difficulty levels. Thanks to the access to Wierchomla Mała and Szczawnik you can ski on both northern and southern slopes.
55km
(Heron Live Hotel - Wielogłowy - Chełmiec - Stary Sącz - Rytro - Piwniczna-Zdrój - Wierchomla Mała)

59min
Wierchomla Mała 21, 33-350 Piwniczna-Zdrój

+48 18 414 32 64

wierchomla.com.pl