A dream party in a beautiful surrounding, in a posh room or maybe on the lake shore? Your wedding as well as reception will be remembered by you forever. Celebrations by the picturesque lake will surely remain not only in memories of the guests, but also on photographs.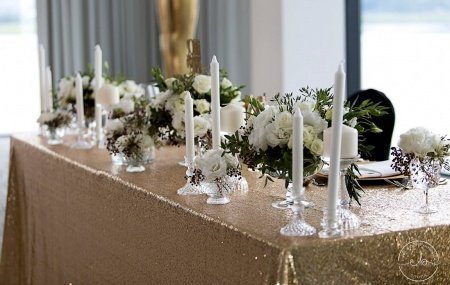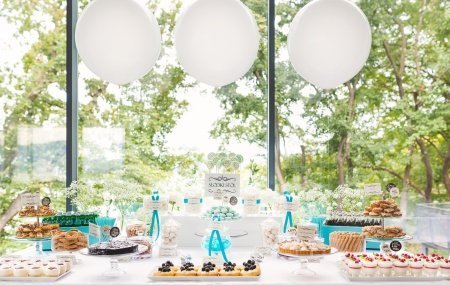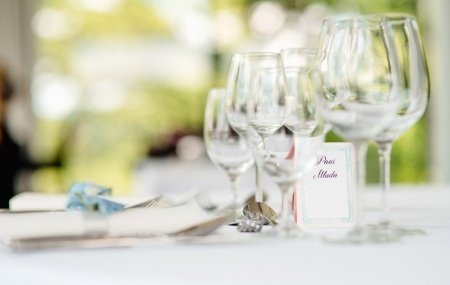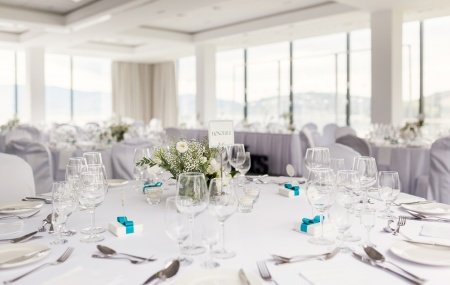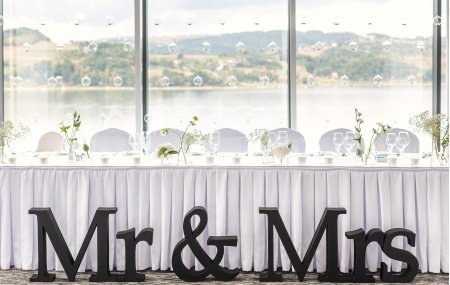 Unforgettable
Wedding receptions
Heron Live Hotel is just the ideal place to celebrate the most important moments in life, especially weddings. We will make sure you enjoy those special moments like nowhere else. The five-star Heron Hotel guarantees professional organization of a unique and unforgettable wedding reception.
You will have a specially prepared reception hall that will become a chic and subtle background for your memorable wedding reception. We will make every effort to meet your expectations at every stage of preparations. If you decide to organize a wedding reception in our hotel, you can invite any number of guests.
Tradition
and modernity
Our hotel's kitchen is a place where tradition meets modernity. The starters as well as the main courses served at receptions and parties are always carefully planned taking into account the preferences of our guests, therefore we are always willing to adapt the wedding menu to your needs. The sublime dishes and delicious soups constitute a unique proposal that will delight you with the composition of flavors. Our chefs will compose a wealth of flavors of exotic spices into a delicious dish with masterful precision.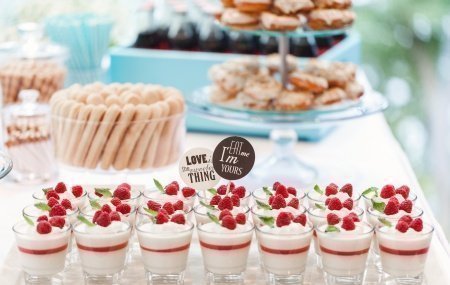 For bride and groom
w noc poślubną
Heron Live Hotel features a specially prepared Bridal Suite for the bride and the groom, whereas your guests will find accommodation in our rooms after this eventful and emotional night to wake up next day and spend it on active recreation or just relax and unwind. We are open to your ideas about the wedding parties and we guarantee that everything will go according to your expectations. You are welcome to schedule an appointment with our wedding consultants, during which they will answer your questions, agree on available dates and present you our price offers. Our wedding consultants are always at your disposal.
WYJĄTKOWE MENU
KREOWANE WASZYMI MARZENIAMI
To, jak będzie wyglądał i smakował ten wyjątkowy dzień zależy od Szefa Kuchni Heron Live Hotel - Krzysztofa Małochy, ale również od samej Pary Młodej.
Para Młoda sama określa, co chciałaby, aby było podane na stoły ich Gościom. Około 2 miesięcy przed zaplanowanym weselem zapraszamy Parę Młodą do Restauracji Sienna 104, gdzie Szef Kuchni przygotowuje kolację degustacyjną składającą się z wybranych wcześniej dań. Para Młoda może wcześniej poznać smaki i zadecydować, czy potrzebne są zmiany w wybranym menu. Szef Kuchni Krzysztof Małocha zawsze służy pomocą aby dobrać odpowiednią kompozycje smaków. Wielkie serce naszego Szefa Kuchni do dbałości o kulinarne detale i nadzwyczajny talent do kreowania smaków sprawiają, że Goście są zachwyceni!
Tradycyjna forma menu wesela zazwyczaj składa się z obiadu serwowanego gościom do stolika w stylu bankietowym, po obiedzie dostępny dla Gości jest bufet z zimnymi przekąskami oraz bufet deserowy. W trakcie trwania przyjęcia zazwyczaj serwowane są 2-3 dania ciepłe lub dostępny jest otwarty bufet z gorącymi daniami. Dla Gości wspaniałą atrakcją może być występ kucharzy przy otwartym oknie z daniem serwowanym live. Jednakże wesele kreowane jest indywidualnie z Parą Młodą, która decyduje finalnie jak będzie wyglądało przyjęcie. Nasi konsultanci weselni dopasowują formy menu do charakteru, przebiegu, kolorystyki i tematyki wesela.
SESJE ŚLUBNE
W NIEZAPOMNIANYM OTOCZENIU
Zdjęcia ślubne to najważniejsza sesja w naszym życiu. Fotografie pokazujemy wspominając wzruszające chwile rodzinie, przyjaciołom, a później dzieciom. Ważne aby zdjęcia miały klimat, dzięki któremu zapadną w pamięć i oddadzą miłość Pary Młodej. Heron Live Hotel to doskonałe miejsce, które dzięki klasycznej architekturze, wysmakowanych wnętrzach oraz pięknym widokom jest idealnym miejscem na Waszą sesję ślubną. Niezależnie, czy zdecydujecie się na organizację wesela w Heron Live Hotel, czy chcielibyście zorganizować sesję ślubną na terenie hotelu, zachęcamy do kontaktu z naszymi konsultantami: tel. 18 88 88 510 marketing@heron-hotel.com
Skontaktuj się z nami
I POZNAJ HERON LIVE HOTEL
Będzie nam niezmiernie miło spotkać się z Państwem na wcześniej umówionym spotkaniu. Odpowiemy na Państwa pytania i wątpliwości, wskażemy dostępne terminy oraz przedstawimy ofertę cenową. Nasi konsultanci ślubni są w każdej chwili do Państwa dyspozycji.
konferencje@heron-hotel.com
tel. 18 88 88 509